Our mission: to contribute to a cure for paralysis
RoboFit is the culmination of an eight-year long journey for husband and wife duo Maryanne Harris and Daniel Hillyer.
After experiencing a balcony collapse in 2010, Daniel was left with a life altering diagnosis of quadriplegia, ending his career as a chef. Doctors informed him that wouldn't be able to move from the neck down, a devastating diagnosis that Daniel and Maryanne simply refused to accept.
With an exercise science degree behind her, Maryanne became curious about the future of rehabilitation, coming across some promising technology from Cyberdyne, based in Japan. This interest led Daniel and Maryanne to labs and conferences all over the world, and the development of a partnership with Cyberdyne.
Cyberdyne's HAL technology has changed Daniel's life, restoring motor and sensory function previously thought to be lost forever and proving that you should never say never.
We're pleased to have opened Australia's first Cyberdyne-certified rehabilitation clinic, and look forward to bringing RoboFit to more locations soon.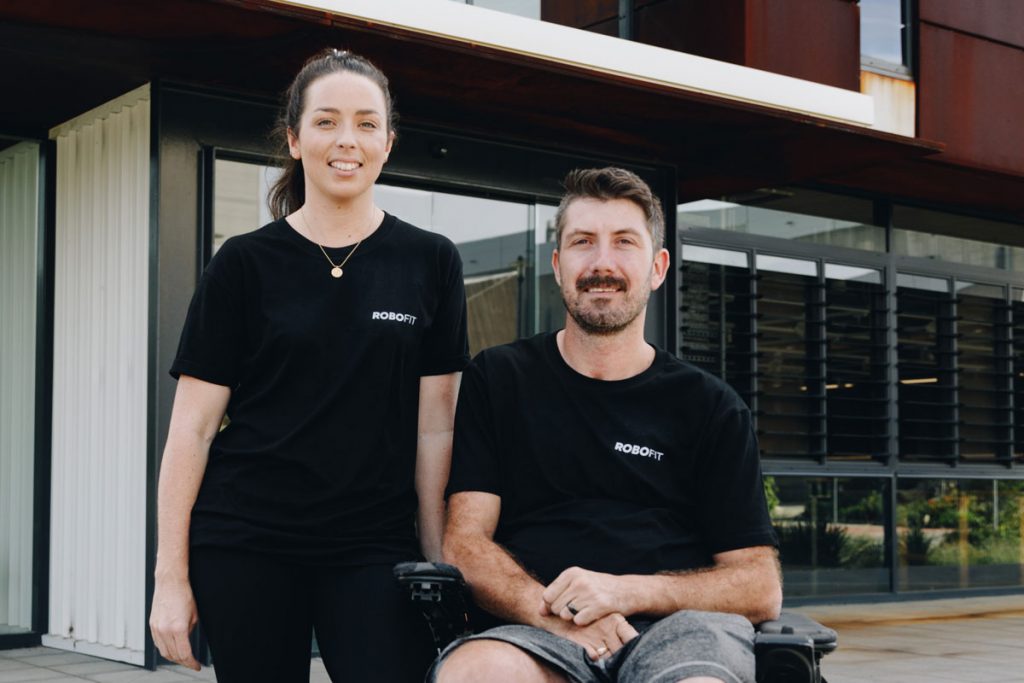 | | |
| --- | --- |
| May 2010 | RoboFit's co-pilot Daniel becomes C4/5 incomplete quadriplegic following a balcony collapse. Following a 10 month stay in hospital he finally comes home. |
| Nov 2012 | Maryanne attends Medica conference in Germany to learn more about rehab technology, meets Cyberdyne. |
| Mar 2013 | First trip to Japan to trial HAL in Tsukuba |
| Apr 2014 | Daniel walks 5km across Sydney Harbor Bridge - significantly improving on his previous personal best of 200m |
| Sep 2014 | Second trip to Japan for Dan to use HAL for a longer rehabilitation session |
| July 2016 | Welcome Cyberdyne representative to Australia |
| Aug 2019 | Cyberdyne visits Australia and our team's offices to formalise partnership with Cyberdyne for HAL in Australia and New Zealand. |
| Nov 2019 | Maryanne undergoes Master training for HAL for Australia and New Zealand & formalise partnership with Cyberdyne |
| Sep 2020 | Australia's first Neuro-controlled exoskeleton is approved by TGA |
| Mar 2021 | HAL lands in Australia |
| Mar 2021 | RoboFit begins working with first clients at centre in North Wollongong. |